I'm glad you're here! You can email me at annie_07@alumni.utexas.net. If you're emailing with a question, please check the following frequently asked questions first.
[If you'd like to get in touch with my agent, please contact Alec Shane at Writers House: ashane@writershouse.com.]
Where can I buy your book?
Thank you so much for asking, but I don't have a full-length book out yet. I have many stories and poems published, though, and you can read many of them for free online. Others you can buy physical copies of. The full list is here.
Can you give me writing advice?
I'm not an expert, but I do enjoy sharing the things I learn along the way, which you can find scattered throughout this category tag of my blog.
Do you provide writing, critique, or editorial services?
No, I'm sorry. I don't have time to do that type of freelance work right now, and I cannot write, edit, or even read your work/bio/resume, etc.
Do you publish guest posts?
I appreciate the interest, but at this time I'm not open to submissions for guest posts. If that changes in the future, I will be sure to post it here.
Do you do book reviews?
Occasionally I blog about a book I love, but I am not open to solicited reviews.
Will you consider product placement, reviews, or advertising?
No, but thanks for your interest.
I'd like to use one of your images or illustrations. Do you licence them?
On a case-by-case basis. Shoot me an email and we'll talk rates.
Have a question that wasn't covered?
For writers with questions about Twitter, you can submit questions for my "Ask Annie" column at Writer Unboxed by using the form below, which has an anonymous option.
For general questions, I have an "ASK" feature on my tumblr. Click here to ask me anything for a public answer. Anonymous questions are optional. (I don't guarantee that every question will be answered.)
If you prefer a more private way to contact me, or just want to say hey, you can always email me at annie_07@alumni.utexas.net. I'd love to hear from you!
---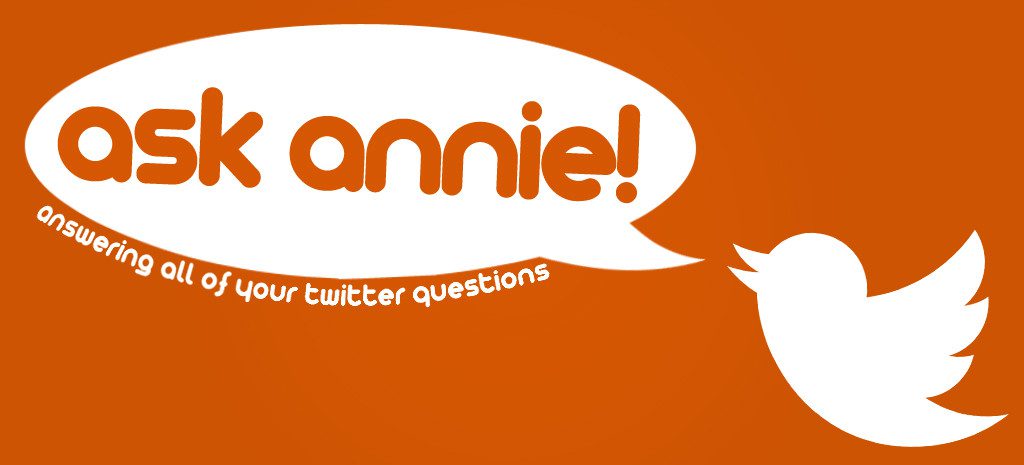 If you're a writer who has a question related to Twitter — etiquette, function, theory, etc. — and would like me to answer it in my Ask Annie column at Writer Unboxed, please use the form below to submit your question. Not all questions will be answered, but in case I choose yours for one of my posts, please include whether or not you'd like your name and info associated with your question. And don't worry; if I don't get to your question this time around, there's always next time!
*Note: This form is for Ask Annie questions only. If you're not a writer with a question about Twitter, please email. Questions through this form will not be answered directly.
---