Spooky people! (And normal people during spooky season!) I've had much going on since last week – so much so that instead of giving you more to read here, I'm going to tantalize you with bits and send you to read the things I've already written elsewhere. Here are three of my posts with a little sneak peek of each so you can pick your poison treat, though there's no need to limit yourself to one. Like Halloween candy, the fun is in tasting them all. 😀
Last week I announced my #BooksBrewBoo October blog celebration and giveaway. Basically, I want to give you coffee and a scary book! The complete rules are here. This post is eligible, as are two of the three below. (The other has a giveaway of its own–'tis the season!)
This has to be the most fun I've had putting together a post for LitReactor so far! The world is full of creepy, macabre, eerie, and horrifying things, and I want to go see them all. So far I've only seen two of the thirteen on this list; how about you?
Taste: What's creepier than an abandoned doll? How about hundreds and hundreds of them, mutilated and decaying, hanging from trees on a floating island? That's what you'll get if you dare to visit Isla de las Muñecas in Xochimilco. Legend says the owner of the island, Don Julián Santana Barrera, discovered a drowned little girl and hung her doll from a tree as a sign of respect. (Don't ask me.) But after he became haunted by whispers and crying, he began hanging dolls all over the island in an attempt to free the little girl's spirit. Although locals claim the place is 'charmed,' visitors consistently describe it as the creepiest thing they've ever seen.
[Click to read the rest; leave a comment with #BooksBrewBoo to be entered to win!]
Y'all know I'm crafty, so of course Halloween DIY is my favorite DIY. This year I decided to take some old hardbacks I'll never read and turn them into wicked decorations for my mantel. The result is an amazing set of custom "witch books," and I've talked you through making your own step by step at HWA's Halloween Haunts blog series!
Taste: Click to enlarge!
[Click to read the steps; leave a comment to be entered to win a copy of Dark Hallows II! Bonus: includes an excerpt from my story "The Devil Take the Hindmost" in DH2, which you can win just by leaving a comment!]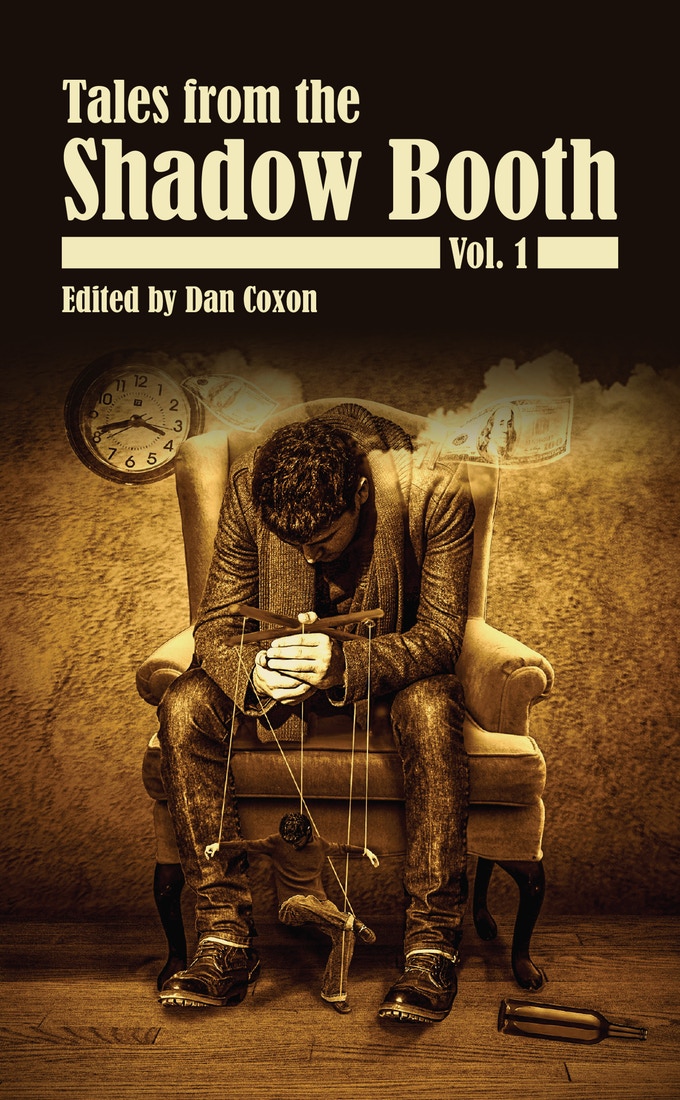 I do so love an interview, even more when it's about horror and writing and my fantastically zombie-prepared hubby. As part of spreading the word about the Tales from the Shadow Booth Kickstarter, the Gingernuts of Horror are interviewing myself and the other contributors this month. It's a lot of fun!
Taste: Q: The term horror, especially when applied to fiction always carries such heavy connotations. What's your feeling on the term "horror" and what do you think we can do to break past these assumptions?
A: I feel so passionately about this that I've written entire essays. Here's the short version: horror explores fear and associated emotions. That's it. That's the only defining requirement. Monsters and gore and genre conventions are secondary. So the best way to break past the stigma and assumptions associated with horror is to use the label liberally and consistently – to claim all of the types and styles of horror, not just a select few. People have to get past this equating of slasher gore with horror; there's so much more out there that's deep and intellectual and emotionally valuable. And fun, too. Don't forget fun. They're all valid uses of the genre.
[Click to read the rest; leave a comment including #BooksBrewBoo to be entered to win! Bonus: includes an excerpt from my story "That Which Never Comes" in Shadow Booth!]
---
Those are my three for the week! (I told you it's busy season!) I hope you'll go check out one or all of them and find something you like to snack on. 🙂 And don't forget to leave a comment below and/or share any of my goodies this month to get your shot(s) at winning #BooksBrewBoo!
Happy reading!
Share this: