Happy October!!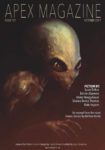 First things first, TODAY is release day for Apex Magazine Issue 101! This issue includes my horror story "So Sings the Siren," and I am unbearably excited for you to read it. Unsurprisingly by now, it does come with a trigger warning. My story will go live on their website later this month, but if you, like me, can't wait that long, you can purchase the whole issue now at Apex-Magazine.com for Kindle, Nook, PDF, you name it. Happy October to me!
As pretty much everyone in the universe knows by now, it's my very favorite time of year. For several years now in October I've given away scary books to celebrate All Hallows Read, and this year is no exception – but there is a twist or two. (Plot or lemon—who doesn't love a twist?)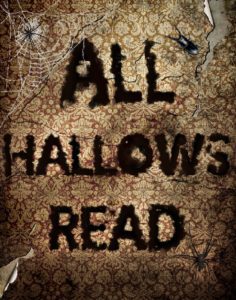 Since coffee runs the world, and nothing goes better with a spooky book on a cool evening than a warm mug of boo brew, I'm giving away a book and a Starbucks gift card to one lucky winner! The gift card will be for the price of whatever Starbucks' Halloween coffee concoction is this year (finding out is half the fun), but of course it can be used on tea, snacks, or any of their merchandise. And the book will likely be one of my two forthcoming October poetry anthology releases: HWA Poetry Showcase Volume IV by the Horror Writers Association or Undead: A Poetry Anthology of Ghouls, Ghosts, and More by Apex Publications. Choice of paperback or ebook as available!
Coffee and a spooky book, you want this, yes? Good. You can enter up to 13 times! (Lucky!) The winner will be randomly chosen from all entries, so the more you enter the better your chances. Eligible entry methods include:
commenting on any/each of my 4 October blog posts right here at AnnieNeugebauer.com (including this one!), 1 per post. All commenters will be automatically entered unless requested otherwise
commenting on any/each of my 3 October blog posts at LitReactor.com, 1 per post. To have your comment there counted, please include the hashtag #BooksBrewBoo
commenting on my interview at the GingernutsOfHorror.com. To have your comment there counted, please include the hashtag #BooksBrewBoo
tweeting to share any of my promotional links this month—up to 2 tweets. To have your tweet counted, please include the hashtag #BooksBrewBoo
posting on Facebook to share any of my promotional links this month—1 post. To have your share counted, please include the hashtag #BooksBrewBoo
purchasing my Writing Expense and Income Tracking Spreadsheet at its special discount price of $6.66 this month (use coupon code October). All purchasers will be automatically entered unless requested otherwise
donating to the Kickstarter for Tales of the Shadow Booth any time this month. A donation of $14 serves as a preorder for Volume 1, so this is a win-win. Tweet/Facebook share your "I donated" link with the hashtag #BooksBrewBoo to be entered, or privately message me a screenshot/confirmation to show you backed the project
All entries must be made by 11:59 CST on October 30, so I can announce the winner on Halloween!
Really the only things I have going on that won't count are my stories/poems themselves (though sharing them does) and commenting on my post for HWA's Halloween Haunts, since that comes with its own giveaway (details will be in that post).
Bottom line? Share any of the copious goodies I have going on this month using #BooksBrewBoo and you'll probably be entered to win a free book + Starbucks gift card! If you have any questions or run into snags, feel free to message me. But the ghost spirit of the giveaway this year is to share my goodies to win your own goodies. Only treats, no tricks. 🙂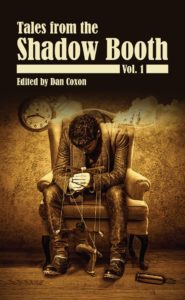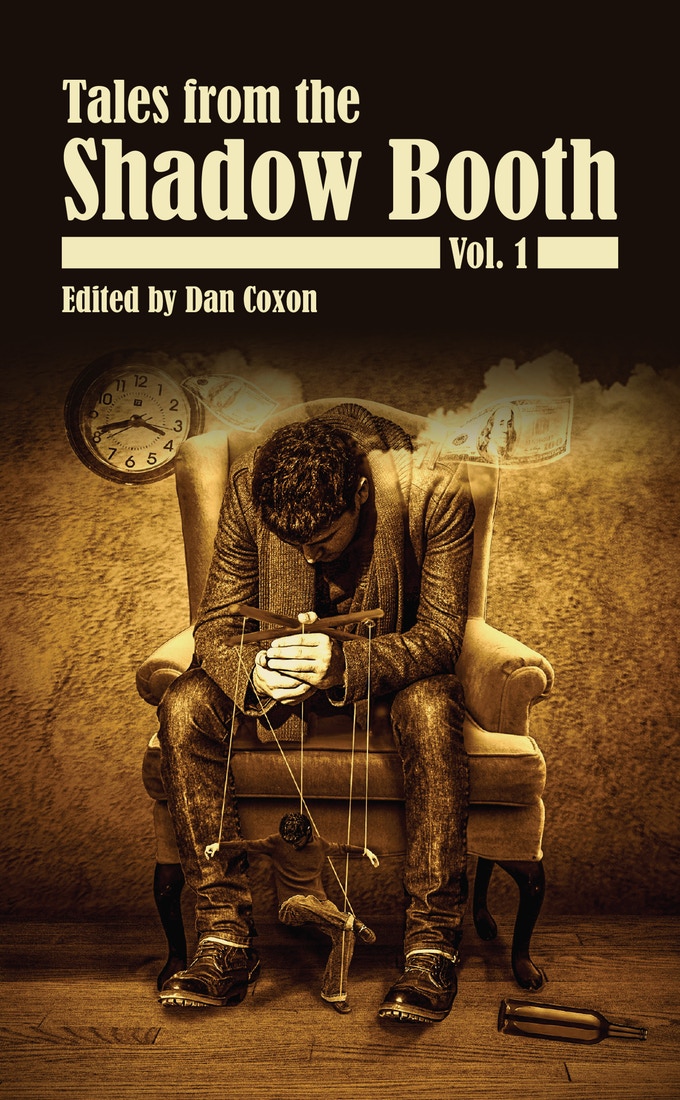 A few other things of note. The Kickstarter mentioned above is for a new journal called Tales from the Shadow Booth. Volume One will have my story "That Which Never Comes" in it! Pledging $14 or more not only helps make this project a reality, but it also serves as your preorder; you'll get a print copy in the mail this December! This is a very cool project for eerie, literary horror stories (hello!) that otherwise have a hard time finding a home. Editor Dan Coxon describes it as "authors writing interesting stories in this hinterland – stories too philosophical and introspective to fit the horror genre, but too weird and unsettling to sit within the literary field." My accepted story is an experimental look at what it means to run from our fears, and you're not going to want to miss it.
Good news for writers: I'm offering a discount on my Writing Expense and Income Tracking Spreadsheet this month – because what could possibly be scarier than taxes? Use the discount code October to get this budget-keeping must-have for $6.66 all month long. This is geared towards all types and all levels of writers. If you spend or make any money at all, indie, trad pub, or freelance, you should be keeping careful track, and this spreadsheet makes it clean and easy. And does the math for you!
Finally, we have fun stuff to come here on this blog. I've gotten requests so far for my review of the new movie IT and a video reading of my poem "Light and Liquor," so look for both of those. And if you have a request of your own to make, go for it in the comments. I can't make promises, but it never hurts to ask.
Thank you all so much for your enthusiasm and support during my busiest, happiest time of year. I hope this one brings you all as many treats as it's bringing me!
Share this: