In January 2014 I had a very very short story called "Death's Favorite Pet" published in DarkFuse's micro-fiction series Horror D'oeuvres. I was thrilled to land this publication, particularly because it completed my requirements to become an active member of the Horror Writers Association, but DarkFuse was (and still is) only available to subscribers. So while I got to find lots of new readers, many of my regular followers weren't able to read the piece without paying.
Luckily, "Death's Favorite Pet" has just been reprinted in The Sirens Call eZine, so now you can read it for free! This happens to be Sirens Call Publications' 5th annual Women in Horror Month issue, but don't let the title fool you. My short little piece is far more poignant than frightening, so even my scaredy-cats should be safe. 🙂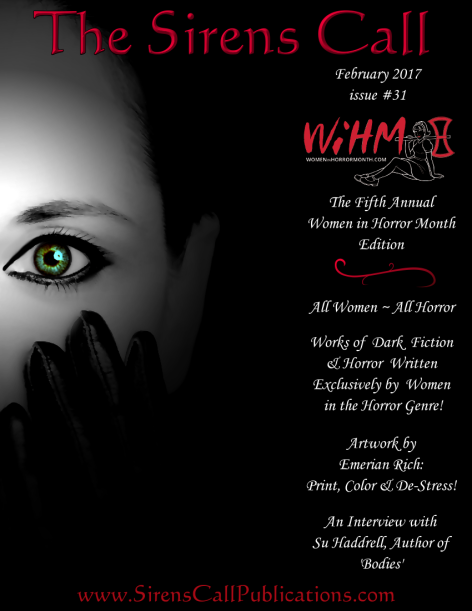 So if you missed "Death's Favorite Pet" the first time around, or if it's simply been a while, I hope you'll take a minute (and it's really, really short, so that's probably literal), to read it now, right on your phone/computer. If I did it right, you should be able to click directly on the image above to download. (If that doesn't work for you, you can click on the cover image on this page to download your copy.) I'm on page 82.
Big thanks to Sirens Call for reprinting "Death's Favorite Pet!" I hope you've all had a great February/Women in Horror Month, and I hope you enjoy the story. ♥
Annie
Share this: