When I sat down to write my New Year's blog, I was wondering how on earth I was going to fill a whole post. I'm big on transitions, reviewing, and setting new goals, though, so I figured I'd continue my January tradition even if the post ended up being a short one.
What I didn't realize was how incredibly full and wonderful 2015 was for me. With the natural tendency to focus on what needs improvement, I was thinking about how I had a low total word count for the year and that I took the whole summer off writing to reenergize and refresh by getting a summer job as a park worker, so I was looking at it as a slow year for my writing life. Along with taking those months off for the summer job, I also tutored a Spanish 1 student for several months, which was outside my comfort zone, but my student ended up with the highest grades in her high school class. 🙂 And on top of that, I achieved last year's resolution of becoming more active this year, and am healthier and happier for my yoga and gym visits.
So I was ready to forgive myself for a slow writing year, but boy was I ever wrong! Compiling the highlights and reflections for this year's writing things took me five times longer than I thought it would, but I'm so glad I did. How else would I ever have put into perspective how very much value and achievement and growth this year held for me?
Looking Back at 2015
There are three traditions I started last New Year's: filling out a pretty new planner, putting notes of things that I was grateful for, happy about, and/or proud of in my joy jar, and finalizing my earning/expense documents for the year's taxes. (I'm a party animal, I know.)
Reading through all of the notes in my joy jar was really fun. Most of my notes were obscure and/or personal, but here's a shot of four of my favorite ones beside the emptied jar: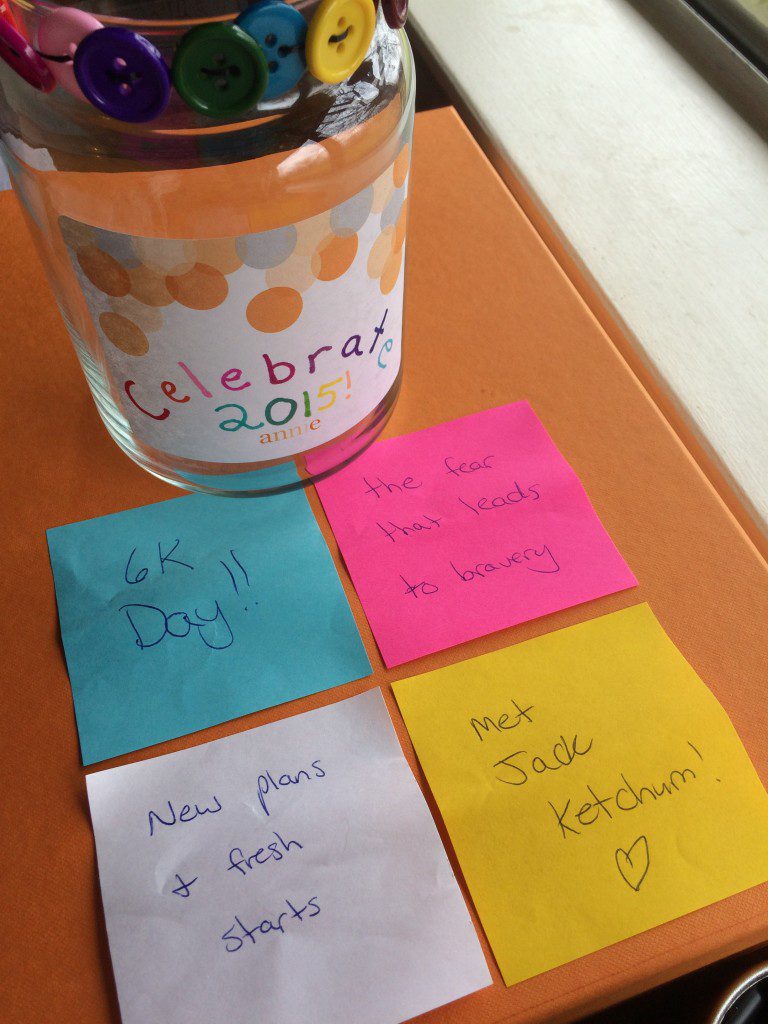 The 6,000 word day was my personal best for drafting. I don't even remember what "the fear that leads to bravery" was about (but doesn't that just go to show?). I met Jack Ketchum, one of my favorite horror authors, at World Horror Con in Atlanta, and he signed my treasured copy of Off Season that was my dad's. And "new plans and fresh starts" sort of speaks for itself, doesn't it? Of course, there were dozens and dozens of other moments that made me smile, many of which had nothing to do with writing and everything to do with the small moments that make up a full life.
Here on the website, I saw continued growth with many new visitors and email subscribers, thanks in large part to the incredible Anne Rice sharing four of my blog posts with her followers. (Here are the links to her Facebook posts: "The Differences Between Commercial and Literary Fiction," "Thoughts on IT by Stephen King, What it Takes to Enjoy Horror, and Why I Write It," "Thoughts on Gone Girl," and "Introducing My Newest Guilty Pleasure: Bates Motel.") You can't imagine how thrilling it was for me to hear such kind words from one of my writing role models! Not to mention how wonderful her fans are. Her support was the highlight of my year.
In March, I went on a fun writing retreat with one of my besties, Kelsey Macke. In May, World Horror Con was an absolute blast and a huge personal success. I got to meet two of my online writing buddies in person; Ashley Davis and Carie Juettner turned out to be even cooler than I'd hoped for. I had two successful pitch sessions, met dozens of new friends, colleagues, and influencers in the field, learned lots of great stuff, interviewed 14 authors I admire, and even found a mentor in the fabulous Horror Writers Association president Lisa Morton!
Over the course of the year, I completed pretty big revisions on two different novels, wrote several new stories and many new poems, and broke my 50-market goal for venues I've had work accepted to. 🙂 The Organized Writer continues to grow, with my free documents receiving a record number of downloads.
I had three different short stories come out in 2015, along with five poems, two guest blogs, three interviews, six more columns at Writer Unboxed – which also marked the introduction of the Ask Annie feature this year – as well as two of my stories being favorably reviewed (a quick line about "Honey" in Blurring the Line and a full, fun, cheeky write-up of "Zanders the Magnificent" by Charlotte Ashley on "Clavis Aurea #26" at Apex Magazine). If you missed some of these works, you can find everything of mine that came out this year, sorted by category and listed from most recent to oldest, on my published works page.
Another highlight of this year was being included in two very cool lists: "Celebrating Women In Horror Month" at LitReactor and Ellen Datlow's recommended list for Best Horror of the Year Volume Seven. I opened up my "Ask the Author" feature on Goodreads to celebrate Horror Week. You can read the four great questions I got and my answers here. I also continued to tweet @AnnieNeugebauer, update my Facebook page, and curate my (NSFW) tumblr inspiration blog. Now, looking back, I wonder how I ever thought of this past year as slow!
Looking Forward to 2016
So, naturally, now I'm thinking ahead and dreaming of the year to come. So far I can share that I have the following forthcoming in 2016: two poems in Apex Magazine (January and March), one short story in the anthology Strange Little Girls by Belladonna Press (February), and one poem in the NFSPS's prize anthology Encore (July).
I also have two more contracts underway that I should be able to announce soon, plus hopefully more as the year goes on!
And last but not least, here's my new planner and waiting joy jar set up for another busy, happy, productive year: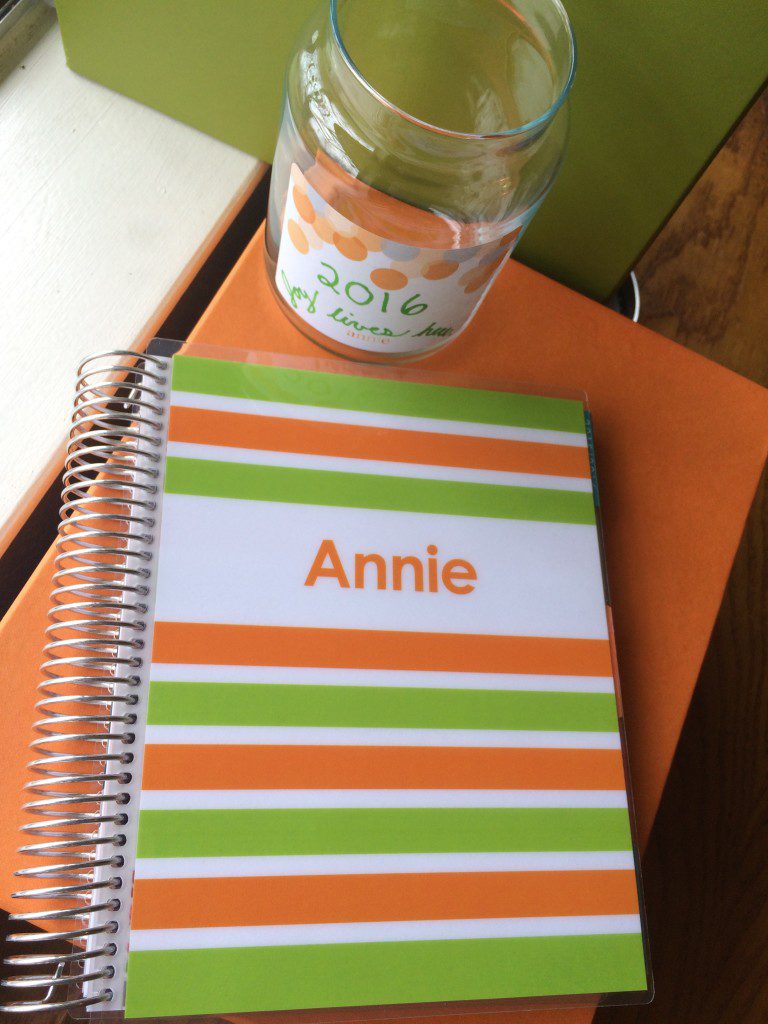 If you can't tell in the picture, the new jar label says "Joy lives here." ♥ So that's my wrap-up! Many, many thanks to everyone who helped make my year special, whether it was by publishing my work, being a supportive friend, or simply reading this blog.
I'd love to hear all about your own 2015. Feel free to share in the comments below. And here's wishing you all a wonderful 2016!
Share this: