You guys know how I can't resist reading the uber-popular books just to see what all the fuss is about? (Twilight thoughts here and a 50 Shades discussion here. Plus check out my whole not quite book review category tag for my thoughts on even more books.) Well, I just finished Gillian Flynn's Gone Girl last week. I knew a few pages in that it was worth blogging about.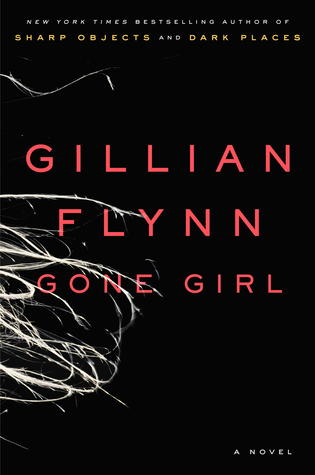 This is a very difficult book to discuss without giving away spoilers, but I HATE spoilers. I definitely won't give away anything big, and I will do my best to keep details vague while still being useful, but if you know Gone Girl is one you want to read, you might want to bookmark this post for after you finish just in case. Let's dig in, shall we?
What It Is
Well the obvious answer is that it's a really, really popular novel that's been made into a movie. The answer that interests me is that it's also one of the best examples of upmarket fiction I've come across in quite a while. From literary fiction, it borrows the unreliable narrator (two of them!), intentionally unlikable characters (many of them!), and a somewhat unchronological story/unconventional frame style (alternating between Nick's POV and Amy's diary). But despite these things, it shares distinct traits with commercial fiction. The plot is fast-paced with high tension, the genre is predominantly mystery, and the prose, though high quality and intellectual, is stylistically easy to read. Put them together and what have you got? Bippity-boppity-upmarket.
A Matter of Taste

So right off the bat, I'll tell you what I thought. I loved it! As I was reading it, I thought it might end up going on my favorites list. By the time I got to the ending I decided it didn't quite swing that, but I did give it five solid stars on Goodreads. Let's break it down a little more.
My Likes
The main thing that strikes me is that this novel is incredibly brave. I love brave books and I admire the brave authors who write them. I will absolutely read more work by Gillian Flynn in the future.
The thing about discussing Twilight or 50 Shades is that the (to my mind) more interesting topics are somewhat obscured by the outcry over the quality of their prose. Writers especially want the most popular books to be the most well-written books, and that often just doesn't happen. But with Gone Girl, the prose is solid. It isn't stellar in a pretty or breathtaking way; there's really nothing flowery here (though I did look up a few new vocabulary words). It's simply good – not boring, but not flashy – and acutely well-tuned to the "voices" of its protagonists. Writers can quit their whining about all the "crap" that gets published; this one is truly high quality.
What a trip! This book thrusts you into the heads of its extremely disturbed and disturbing main characters – and they struck me as painfully realistic. You do not like them, no, and you aren't supposed to. It's uncomfortable. They're despicable. I sometimes felt a little sick reading them because, honestly, I think those world views are so authentically accurate to real people. But damn if they aren't compelling. I couldn't have put the book down if I tried.
Speaking of which, this books reads like lightning. I don't see how you could be bored! It's not all plot, true, but the characters and the details of their lives are so richly rendered that I can't imagine being bored by it. Not to mention the mystery pulls you along at a great pace.
It kept me guessing, and I'm a notorious twist-guesser. (I don't mean to, but I always accidentally realize what's going to happen.) I did think of the twist as one of the options, but I wasn't sure it was the real answer until it was fully revealed.
And finally, it kept me thinking even after I finished. Even the most disgusting characters had some really great points about certain things, and even the most outlandish plot twists brought up some legitimate food for thought.
Some Dislikes
There were very few things in this novel that didn't work for me, but I have to admit I wasn't crazy about the ending. It didn't make me as mad as it did many readers, and I think I disliked it for a different reason. For me it wasn't about justice, but because the believability factor went way down. For the first three quarters of the novel I was willing to suspend disbelief, but by the end that had slipped. And… yeah, that's pretty much it for my own dislikes.
I've seen several reviewers comment on the prevalence of profanity, which, honestly, I can't understand. Admittedly, I love profanity, but even if I didn't I think I'd still see it as justified in this context. It isn't author interference; it felt like the right "voice" for these narrators. But if that's something you can't make an exception for, this isn't the book for you.
Another complaint I saw in reviews was the economic status and race of the protagonists. I just… what? People said things along the lines of "I can't make myself care about the problems of rich white people." Wow. First of all, I don't really think we're supposed to be "rooting for" these characters in that way anyway. Second of all, I have to say that I find that reaction just as off-putting as if someone said the opposite. But hey, everyone has a right to their opinion. Personally, race and wealth aren't reasons for me to read or not read about any characters, pretty much ever.
And the final complaint I saw repeated was how unlikable the main characters are. I can't argue with that, but it didn't make the book unenjoyable for me. Some readers want to root for a character; others want to be challenged by them. I like both, so I was able to go with it on this one.
Sexism
Here's the big debate I've been seeing: is this book misogynistic? Scores of people are saying it is, but I completely disagree. Is Nick misogynistic? No doubt. But I believe that he's supposed to be. And Amy is supposed to be misandrous and misogynistic (so, basically, a misanthrope). Here's the really important part: having misogynistic and/or sexist characters does not make the author misogynistic and/or sexist. In this case, I would argue the opposite. I read Gone Girl as a fantastically feminist work.
Let's put it this way: If this were a book written by a man about a despicable male character, would interviewers be asking him, "Why do you hate men so much?" Would readers accuse him of looking down on men? I don't think so. Male authors are afforded the benefit of the doubt. They're given the license to write horribly twisted characters of their own gender and not be accused of believing that's how all men are. In my opinion, it's high time female authors are afforded that same license.
Amy Dunne doesn't paint women in a good light. That's inarguable. But I don't believe that feminism is a PR campaign. Women are human, and humans come in all shades of good and evil. Demanding authors to only portray female characters as likable and wholesome does more damage than good. Those aren't women; they're blowup dolls. They're cardboard cutouts there for the male characters to do interesting things in the vicinity of. Given my choice between reading about a Mary-Sue and an Amy Dunne, I'll take Amy Dunne any day. [Note: For my thoughts on "strong female characters" check out this old post!]
This, by the way, is one reason I call Gone Girl a very brave book. I have so much respect for Gillian Flynn for unapologetically writing what she wants to write — and doing a damn good job of it.
Who Should Read It
Writers, to start. I think all writers should read this book, even if they don't end up liking it. What a fantastic opportunity to study an accomplished author's choices and take notes. What works for you and what doesn't? And more importantly, why? Can you use that? Why do you think this novel in particular has been so successful? Can you use that?
As to non-writer readers, not everyone will want this one. I think it comes down to why do you read? If you read for entertainment and/or to make yourself think, Gone Girl is a yes. If you read for light pleasure and/or to uplift and reinforce morals, Gone Girl is a no. If you like tidy endings and clean messages, skip it. If you like books that push the limits and raise questions, it might be worth looking into. And of course, if you only enjoy reading characters you can root for, this one definitely isn't for you. But if you like to take a dip into darkness, Gone Girl is the best book I've read in a while.
Have you read Gone Girl yet? What did you think? (No spoilers, please! If you want to discuss specifics, please do it in a way that won't ruin others' enjoyment. I.e. say "post-twist" instead of stating what the twist is, etc.) And if you haven't read it yet, do you think you'll add it to your list?
Share this: