I love the New Year. It's no secret that I'm all about goals, and if you do it right, resolutions are just goals in disguise. I love the symbolism inherent in a fresh start; I love the reminder to look back and review – to look inward and take stock. I love the sense of energy that comes with a new calendar and the promise of blank pages.
Last year my Hub-a-dub was sick at New Year's, so we stayed home. I was bummed we couldn't go to a party we'd planned on, so to make staying home seem special instead of a let-down, we built a blanket fort in the living room. (Yes, we are young and energetic. No, you aren't too old to build a blanket fort.) We went the whole nine yards, dragging our mattress out into the middle of the room, bringing out every sheet and blanket and pillow we owned, and even stringing up a strand of Christmas lights inside. We played games, ate a picnic, watched the ball drop on TV, and slept in the living room with the cats slowly collapsing our fort as the night drew on. Honestly, it's one of my favorite New Year's memories.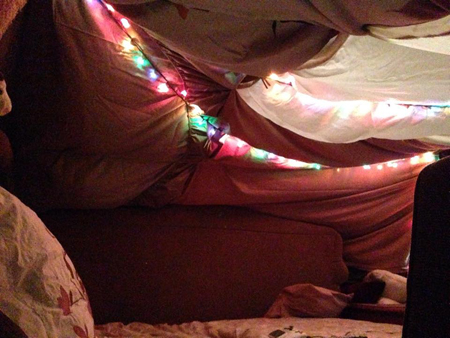 This year I was sick. We did the same, but better. (The kitties couldn't take down Megafort if they tried.) We snuggled, watched stand-up comedy inside the fort, kissed at midnight, and went to sleep. Aside from being sick, I can't think of a better way to ring in the year.
Now I'm on the mend, but not at 100%, so I've been spending the last week or so slow-working and relaxing, mostly reading and getting myself organized for 2015's work year (which for me, starts today). For Christmas my mom got me this super awesome Erin Condren "life planner" which I'm just madly in love with: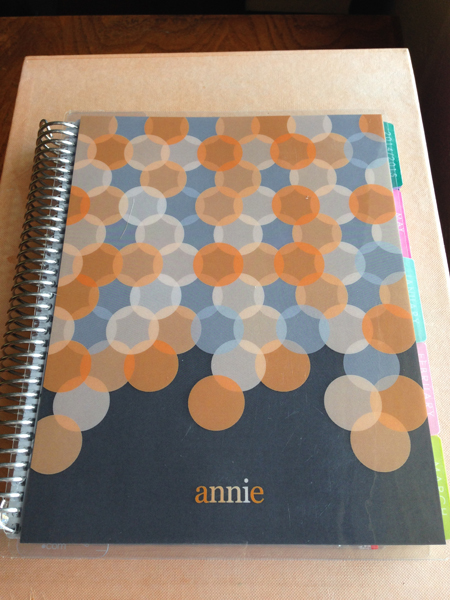 It's a personalized, designer planner for the hyper-organized (you rang?). I spent most of New Year's Day doing two things. 1) Filling out this baby with birthdays, holidays, known appointments, recurring meetings, etc. 2) Filling out my 2014 work expenses for tax time. My hubby was sweet enough to set me up an Excel template to use, which I then filled out for 2014 and set up for 2015. I really enjoyed looking at all of my total expenses and earning for 2014, especially with an eye toward how 2015 might be different. What does it say about me that the happiest way for me to spend the holiday is organizing? (Don't answer that.) To be fair, the pretty, pretty planner full of stickers and designs really does take it from chore to fun – at least now that it's still a novelty.
But it wasn't all neuroticism and spreadsheets. It's also been goals, accomplishments, and colors. Yes, colors. You know how some people really, really love music? Not just in that human nature "Oh, I love music" way that everyone does, but in that "I would die without music" way. Well, that's how I feel about color. If I had to choose between a life without music or a life without color, I'd sacrifice the music (and yes, I love music) in a heartbeat. I don't know how to explain it, but colors mean so much to me. All kinds of vibrant, beautiful colors. They speak to me.
So yes, part of my sense of hope and excitement for what 2015 may bring is symbolized by colors. I added a tab to my new planner for goals: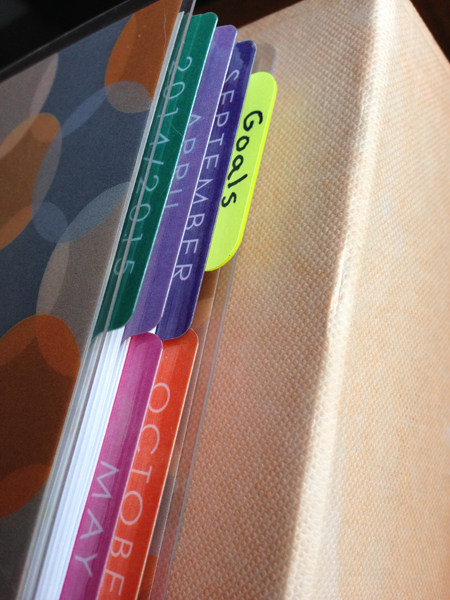 And wrote my goals out with rainbow pens. I divided them up into "work," "personal," and "health" this year. I made them all achievable things that I have control over. And I made them pretty, dammit, so I can flip to this page anytime I want as a reminder. Instead of seeing a somber list of intimidating goals, I'll see a happy list of things that will improve my life and myself.
Finally, one of my personal goals is to celebrate my successes. I'm pretty bad about achieving something and immediately setting the next goal without fully appreciating what I've accomplished first. That's no way to be happy! So as part of that resolution to celebrate more, I've made joy jar. That's what I'm calling it: my joy jar. Any time I have a wonderful day, achieve something I've worked hard for, or experience anything I want to stop and savor, I'll write it on a sticky note (from the multi-colored stack, of course), and drop it into this jar: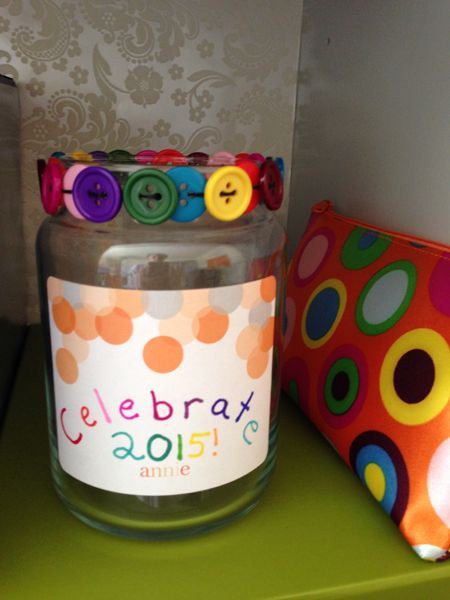 You might notice that I'm a fan of polka dots and orange (my favorite color). My new planner came with some matching stickers. I used one to personalize an empty Yankee Candle jar. (Tips on how to clean empty glass bottles here; skip to the comments for a shortcut.) My mother-in-law gave me this cute little rainbow button bracelet for Christmas, and I think it's a perfect topper. I wrote in "Celebrate 2015" with my multi-colored Sharpies to make it look festive, and set it on my works-in-progress shelf. I can't wait to see it fill up with colorful notes. When 2016 rolls around, I'll go through the jar and read all I have to be happy about in 2015.
Here's hoping it's a lot. 🙂
I wish you all a joyful, colorful, organized (or messy!), spectacularly fresh and open 2015. What are you doing to celebrate?
Share this: