Since I don't have anything specific to blog about today, I thought I'd catch y'all up on some news and whatnot.
You may or may not have noticed that I changed the tagline of my website. It used to be The madness. The heartbreak. The writing. I decided it was time to take it from writer/blog focused to writing/works focused. I tried to find something that encompassed and represented the majority of my various genres and projects. You can see the new one in the header at the top of the site, under my name. I hope you like it!
I recently had a free verse poem, "Nights in Texas," published in Deep South Magazine. It's since been shared over 100 times! That makes me happy. You can read it for free here. You can also expect a second poem, "Rust Never Sleeps," to come out in the same place later this month – plus a guest blog by yours truly. If you're not familiar with Deep South, you should check them out. They describe themselves as a combination of Oxford American and Southern Living. Swoon.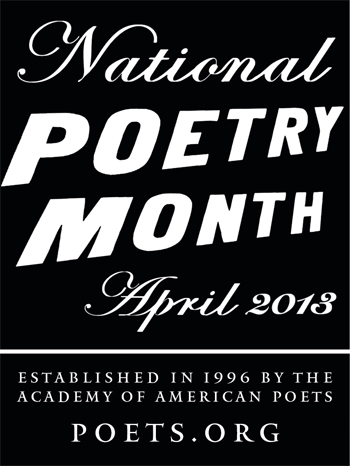 Speaking of poetry, today marks the beginning of National Poetry Month. My local poetry organization, the Denton Poets' Assembly, is participating in our sixth annual Merging Visions Exhibit. This is a really cool project where we collaborate with the Visual Arts Society of Texas to pair poems with artwork. All work is done by members of the two organizations. The pairings are hung in our local libraries, so if you're near Denton, I invite you check it out. The exhibit is open during library hours and free to view. (More details at the link above.) I have two poems in this year's exhibit, one of which is the poem I linked to from Deep South. The other is a short free verse poem.
And keeping with the poetry theme, I just got more good news. One of my horror poems, "Shades of Blue," has been accepted for publication in issue three of a new online literary journal called Hello Horror. I really dig their vibe and was super impressed with their first issue, so I'm pretty excited about that! So look for that poem to come out this June. (As a side note, you can see an updated list of all of my available works plus upcoming publications on this page.)
What else? Well, currently some more revisions on my second novel are keeping me busy. I realized that I never sent that manuscript out very much (Hardly at all, actually. What's wrong with me?), so I plan on polishing it up and pitching it at this year's DFWcon in May. I'm also super way behind on poetry and short story submissions, so that should keep me juggling for a bit. And, you know… life. Spring has sprung here, so I'm busy cleaning house, filing taxes (ugh), frolicking with kittens, and playing outside with Hub-a-dub. I may not be good at keeping up with poetry subs, but I'm excellent at frolicking.
What's going on with all of you?
Share this: