It's a little surprising for me to be able to tell you that I'm about 80% through with this round of revisions on my WIP. I'm hoping to finish this draft on Friday and send it to my beta readers this weekend. Eep!
What does that mean for my blog? Well, it means I can't think of a damn thing to say that doesn't revolve around revisions. So instead, I thought I'd give you guys a look into my daily process right now. Here I am, in all of my nerdy, crazy cat lady glory.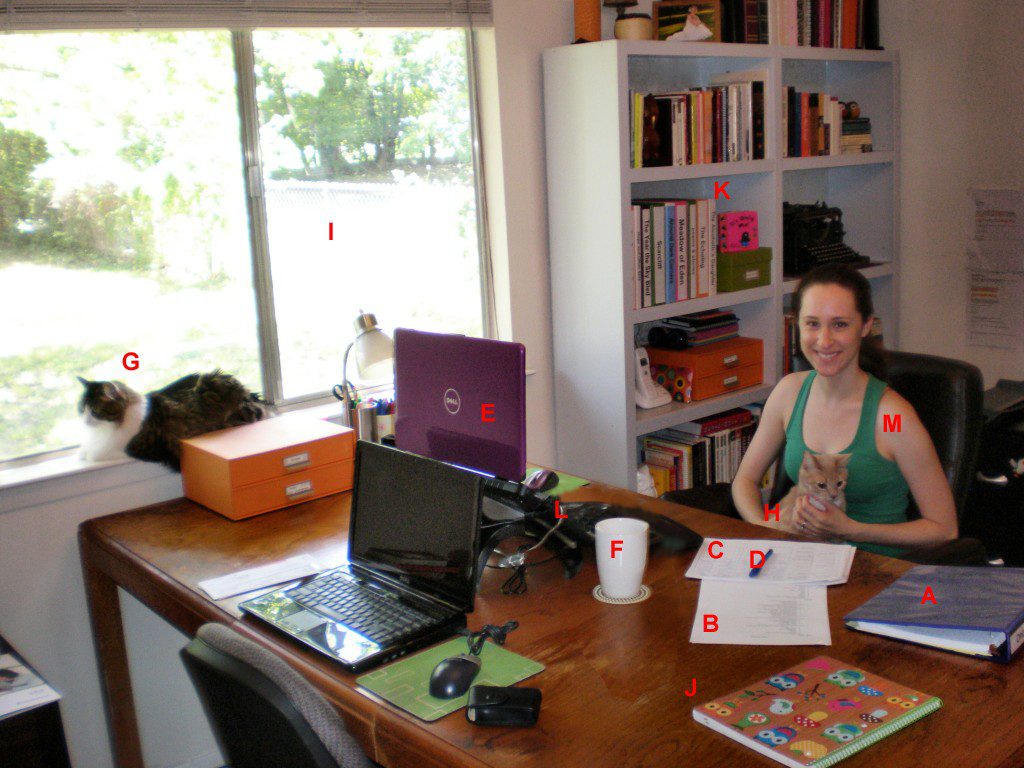 A- My original draft printed out and marked up.
B- My revisions checklist.
C- My chapter/scenes chart.
D- The best pen ever: Paper Mate InkJoy 100 1.0M.
E- My novel in Word, open on my laptop.
F- Inspiration juice (aka coffee).
G- Buttons, my favorite window decoration.
H- Snaps, my friendly pest.
I- My view, which alternates between frisky squirrels and screeching neighbor kids.
J- My brainstorming notebook.
K- The home of my WIP binder.
L- Ergonomic keyboard and laptop stand.
M- Makeupless me. Hey, I work at home. What did you expect?
I'm going to be busy busy busy for the next few days as I finish up, so please forgive me if I become a ghost on Twitter. But I would love to hear what everyone is up to, so feel free to drop me a note below.
I hope you all have a great week!
Share this: