I was lucky enough to be invited on a one-week cruise to Alaska by my father-in-law and his wife. My husband and I went with them and my brother-in-law and his girlfriend, making six of us altogether. We left from Seattle, stopped in Ketchikan, Alaska, navigated up the Tracy Arm Fjord, stopped in Juneau, then Skagway, before coming back with an extra stop in Victoria, British Columbia. All said in done, it was a spectacular seven days, and I'm so grateful for the opportunity.
But even as I was partying hard, I thought of you all. And my kitties. (Let's be honest: mostly my kitties.) I took lots of pictures in hopes of sharing them with you when I returned. So without further ado, a photo-story of some of the things I did on vacation.
(Click photos to enlarge.)
I rode a really, really big ship called the Celebrity Infinity. 2,000 people. We're talking floating city, people. It was a constant marvel to me that the water could even hold us.
I got all dressed up for dinner almost every night and ate at a very tasty, fancy restaurant with my family.
I saw the Sawyer Glacier in the Tracy Arm Fjord. In case you're doubting that it's really as gorgeous as this photo makes it seem: that little boat up ahead is a National Geographic vessel out taking photos. (The giant blue/white "mountain" in between the real mountains is the glacier. The little floating bits are icebergs – chunks of ice that broke off.)
I practiced my photography skills. My fingers were very cold; forgive me. A shot to show the difference between icebergs. The white one on the left is old and roughed-up. The teal one on the right is just broken off. They told us that they're blue because that's the only color wavelength that can penetrate all the way through the ice.
I rode a horse named Liberty in Skagway. He gave me a run for my money. He was so naughty he got put in horsey timeout. Luckily, I know just enough about riding to know that I don't know nearly enough about riding, so I had no problem asking for help.
I relaxed just long enough to breathe and take in the stunning view.
I was completely smitten with the flowers. There were gardens everywhere we went, from Seattle to Alaska to British Columbia. I just couldn't believe how pretty it was.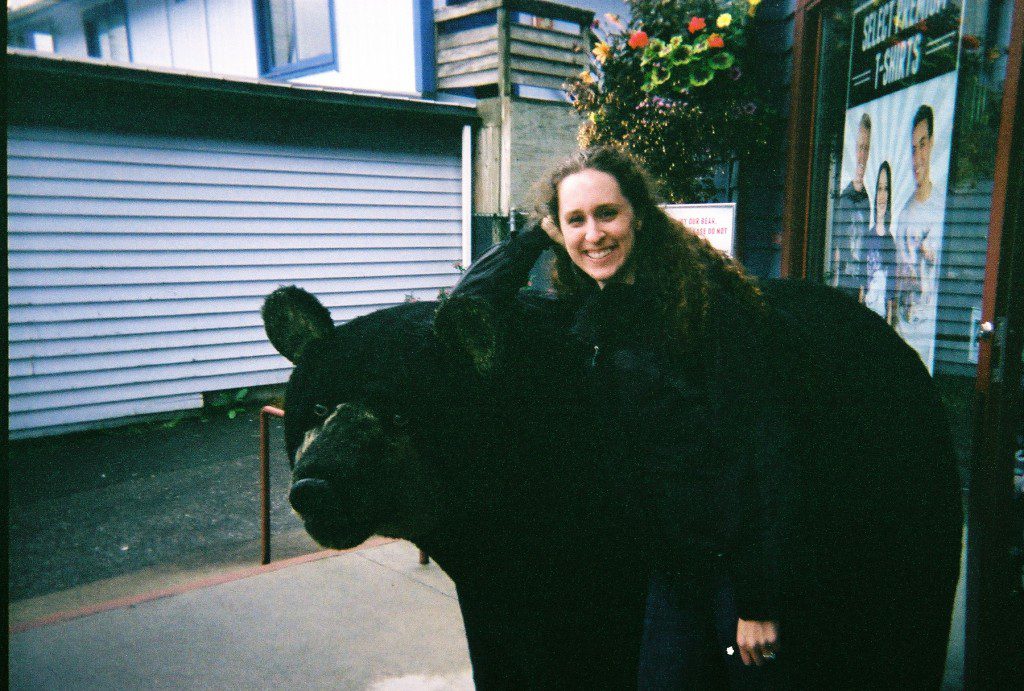 I did touristy things like pose with fake bears.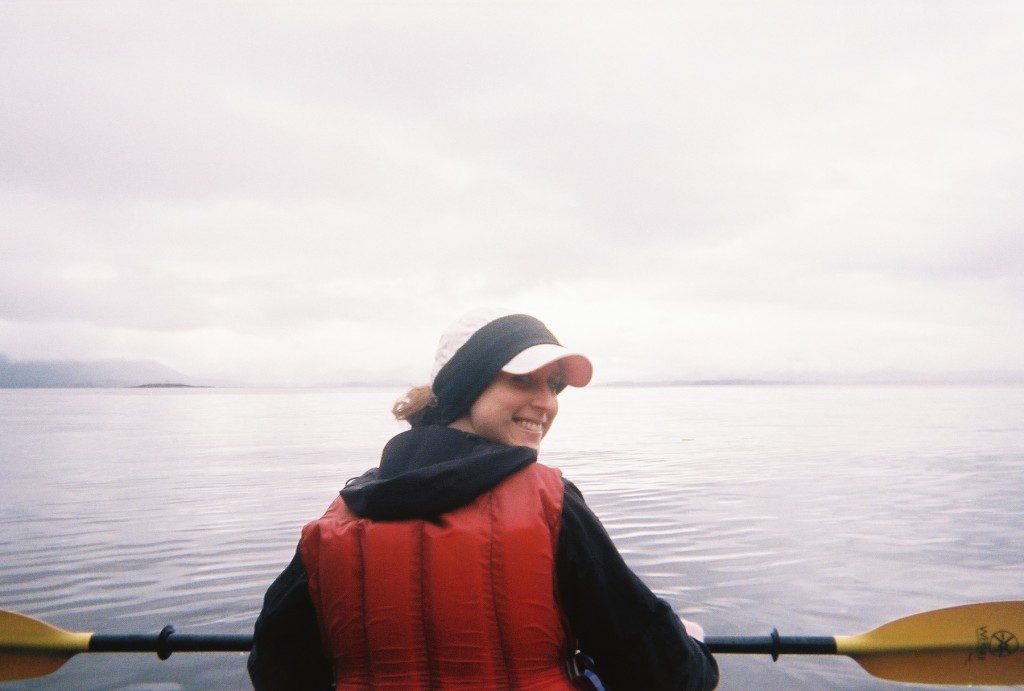 I kayaked the Tatoosh Islands with my hubby. Thank goodness we bought disposable waterproof cameras, because it rained and we got nicely drenched.
I communed with the sea. (I'm a poet; I can't help it.)
And once again, I had my breath taken away by the view. This time in Victoria, BC, where the gardens would make my plants weep with envy.
I ate, drank, played, relaxed, adventured, sightsaw, explored, and shopped. The only things I didn't do much of? Sleep and write. But hey, I have a whole lifetime for that. =)
Are any of you going on vacation this summer?
Share this: