As a female horror writer, I sometimes think I was born the wrong gender about three decades too late.
If you're not very familiar with the horror genre in books, let me sum it up for you: popular contemporary horror novels surged in the 1970's and 80's with the rise of such authors as Stephen King, Jack Ketchum, Clive Barker, Peter Straub, Richard Laymon, and Dean Koontz.
Oh, don't get me wrong; there were others. There were popular novelists before the 70's (Richard Matheson, M. R. James), after the 80's (Joe Hill, Justin Cronin), as well as popular female authors (Anne Rice, V.C. Andrews). But mostly, horror's literary heyday was from 1970 – 1990, and it was ruled by men.
Since then, horror has been in decline. It still has tons of devout readers (myself being one of them), and most of those popular novelists from the 80's are still being published today, but the genre as a whole has slowed down. Most bookstores' horror shelves have been absorbed into general fiction. And although I'm hoping for the renaissance any day now, it hasn't happened yet. (And that, along with why women are less prominent in horror, is a whole other blog post.)
All of this to say: I'm lonely.
Not in real life, mind you. Just within my genre. I have many, many writer friends both in real life and online who I am extraordinarily grateful for, but none of those I'm close with write horror. Some of them dip into it, sure, but I'm the only writer I know in my little circle of connections who writes predominantly horror. Add on top of that that I'm even more niche (literary fiction and poetry often combined with my horror), young (25), and about as girly-looking as they come (see smiley picture in my sidebar)… and I feel damn near isolated.
I have tried to make connections with other horror writers. I joined the Horror Writer's Association, and although generally friendly, everyone there seems pretty well set already, not to mention very busy. I've tried rubbing elbows with some Twitter folks, and while some of them have been very welcoming, others answer my tweets but never follow back – and a few don't even answer. I sort of feel like the kid who transfers to a new school in the middle of the year where everyone already has a place to sit at lunch.
Like I said, I'm several decades late. And it doesn't help that I don't have any books out yet. Most professional authors are hesitant to follow back writers they've never heard of; for all they know I could be a crazy stalker. Or a big waste of time.
Now I'm not confessing all of this to throw a pity-party. I'm not trying to place blame (heaven knows networking does not come naturally to me). And I am not trying to make excuses for myself, either – just acknowledging that I have certain obstacles I might have to overcome. This is all stuff I've been thinking of since hearing the news of Ray Bradbury's death.
Why? I will try to explain.
I wasn't friends with Mr. Bradbury. I never even had the honor of meeting him or hearing him speak in person. Unlike so many of my more-prominent colleagues in the HWA, I don't have any memories of the man himself. All I knew was his writing.
I read Fahrenheit 451 in high school like most everyone else, and I enjoyed it, but that novel didn't change my life. It wasn't until a year ago that I finally cracked open The October Country.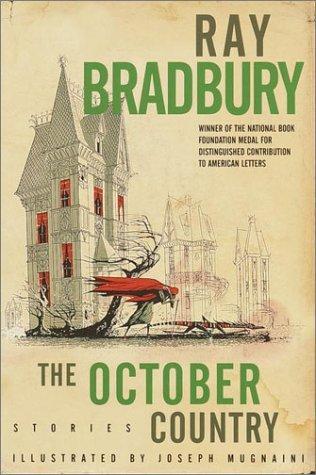 I remember it so well. I sat down on the sofa, opened the front cover, gorgeously illustrated by Joseph Mugnaini, and found a half-page blurb titled "The Grim Reaper" (which I later learned is an excerpt from "The Scythe"). I read it, realized I was holding my breath, let it out, read it again, and closed the book. I looked up at my husband and said, "I have a feeling this is going to be one of those books that changes my life."
I was right.
If you haven't read The October Country, I strongly recommend you do. My personal favorites from it are "Skeleton," "The Lake," "The Emissary," "Jack-in-the-Box," and of course, "The Scythe." The first thing I did after finishing this book was write "Jack and the Bad Man," my own personal homage to Bradbury — and also the first short story I ever had published. The next thing I did was get my hands on Something Wicked This Way Comes. The good thing about starting so late? I have a whole lot of Bradbury left to discover.
Recently I heard about this new tribute anthology coming out, Shadow Show. It includes stories by authors such as Neil Gaiman, Margaret Atwood, and Bradbury himself. Plus, it's co-edited by HWA member Mort Castle, who did a fantastic job editing On Writing Horror – a must-read book on craft for horror writers. I've already pre-ordered my copy of Shadow Show, and I can't wait for it to come out.
Which brings me back to my honesty: I feel sad that I'm too new a writer to be included in something like this, paying tribute to a man I never had the honor of knowing but who touched my life nonetheless. When I go back and read the foreword written by Bradbury in my edition of The October Country, I get chills. It's called "May I Die Before My Voices." It begins with this:
Now, what in blazes does the above title mean? It means that voices have been talking to me on early morns since I was about twenty-two or twenty-three. I call them my Theater of Morning Voices, and I lie quietly and let them speak in the echochamber between my ears. At a certain moment when the voices are raised high in argument or passionate declaration or are like rapiers' ends, I jump up (slowly) and get to my typewriter before the echoes die. By noon I have finished another story, or poem, or an act of a play, or a new chapter for a novel.
Reading these words brings me such solace, because I, too, let voices speak in the echochamber of my mind, and I, too, take down their mysterious ideas. Even a Great like Bradbury, who the contemporary authors I look up to looked up to, started when he was in his early twenties, like I did, and was driven by inspiration and passion.
Reading his stories takes me elsewhere; I leave behind the doubts and drive, the loneliness and impatience, the platform-building and networking, my own age and gender, and I am absorbed into a world of creativity so unbridled and personal it feels not like discovering something new but like finding something I've always had inside me. When I read Bradbury, I don't feel inadequate or left out; I feel like I'm home. I feel like he was a kindred spirit I never got to meet.
His foreword ends with this:
My voices are still speaking, and I am still listening and taking their wild advice. If some morning in the future I wake and there is silence, I'll know my life is over. With luck, on my last day, the voices will still be busy and I will still be happy.

April 24, 1996
From everything I've heard, Mr. Bradbury got his wish. May he rest in peace. He will always hold a place in my heart.
Share this: