The very first thing you must do before you sit down to write a sonnet is find an idea worth writing about. Trying to write a sonnet with no initial concept is pretty much guaranteed to give you a dull, meandering poem. But how do you go about dreaming up subject matter?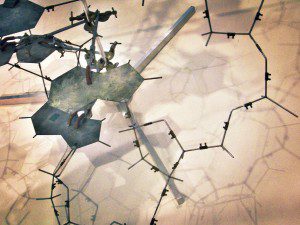 There are ideas everywhere. If you're a prose writer, go peek in the notebook on your beside table – or in that Word document that has random freestanding lines that don't fit in any of your novels. What about that list of flash fiction or short story ideas you haven't gotten around to? If you're a free-verse poet, take a look back at some of your jotted notes that never got executed. Are there poem ideas you've always wanted to try but never sat down to write?
Or what if you're not a writer at all? No worries. Everyone (and I mean everyone) has a few good ideas in them somewhere. You just have to know where to look. And sometimes starting with a brand-spanking-fresh idea is the way to go anyway: no preconceptions, no initial discouragement.
So everybody get out a notepad and pen or open a blank Word document. We're going to brainstorm. In one, long, unorganized column, jot down anything and everything that comes to mind. No censoring. No one will see this list but you.
Starter Ideas:
a childhood memory
your life mantra
a rebuttal to a famous poem, quote, or saying
a funny story
a random thought
a play on words
a time that someone surprised you
a joke you've made up
a message to a loved one
a common "wisdom" you disagree with
what you'd say to someone you've lost
a memorable dream
a nightmare
your favorite animal or pet
an inanimate object
a color that means something different to you than to most people
a time of year that fills you with unusual feelings
the most romantic thing that anyone's ever done for you
a changing moment in your beliefs
a *really* unique metaphor
a poignant memory
a truth you want to tell the world
a realization about an idol or mentor who changed in your eyes
a doubt that won't go away
a sexy memory or fantasy
a time that seemed too good to be true
something that scares you
Now here are two secrets that most people don't know:
1) The more original your initial idea is, the easier the sonnet will be to write.
2) The more specific your initial idea is, the easier the sonnet will be to write.
So avoid clichés (which might mean not writing a love poem), broad topics like "passion" or "hate," and general descriptions of nature or beauty. These are all well and good, but easy to become redundant about. So for beginners, especially, I recommend finding a topic you've never seen done before. No pressure, right?
But don't worry. You have until next Monday to choose which one you're going to start with. Until then, here are some factors to keep in mind while you're brainstorming and deciding:
Length
A sonnet is fourteen lines long. That's shorter than you might think. It is not, for example, long enough to tell a story with more than a few characters, nor is it long enough to explain a complicated topic while still having room to make a point about it. So choose a topic with a relatively narrow focus.
That being said, the lines are ten syllables long. That's longer than you might think. So if your topic can be completely stated in a single sentence… you're going to need some filler. (Hint: filler makes for slow poems.) So yes, choose a narrow topic, but choose one that leaves room for some elaboration and description. You do, after all, have to fill up fourteen lines with it.
As a gauge of length, think of it as a good, relaxed joke (and not a knock-knock one) told around a campfire. That's about how long a sonnet idea should feel in your head.
The Personal Factor
Now this is something that prose writers, especially, seem to struggle with. We all assume that novels are (mostly) fiction, but most people assume that poetry is true. And while it is important that your poem "ring true" on a larger level, it is not important that your poem be factual. In fact, (ha!) it will make it easier for you to write if you release the facts and embrace what comes out.
So should you write about that super intimate secret lurking in your heart? Well, sure, if you feel driven to do so. But keep in mind a few things: 1) People will assume it's true. 2) Forcing your thoughts to rhyme can sometimes skew the truth. If that bothers you, you might want to start with a less personal/emotional topic.
Working Toward the Punch Line
I've saved this point for last, not only because it's my very best advice and the most important thing to keep in mind, but because it's also applicable to you Prosers. And the big tip is….
Come up with your ending first.
Here's why. The Shakespearean sonnet, which is the version we will be using since it is the most well-known and (I think) the easiest to work with, can be broken down into four "chunks."
• The first quatrain. (Four intermixed lines that alternatingly rhyme.)
• The second quatrain. (Four intermixed lines that alternatingly rhyme.)
• The third quatrain. (Four intermixed lines that alternatingly rhyme.)
• The couplet. (Two lines at the end that rhyme directly with each other.)
So put simply, the English sonnet is 12 lines of alternating rhyme followed by 2 lines of back-to-back rhyme. When you look at it like this, it's easy to see what will pack the most punch in the poem: those last two lines.
The couplet carries the poem. In a funny sonnet, the couplet is the punch line. In a sad sonnet, it's the emotion that tugs at our heartstrings. In a sexy sonnet, it's the proclamation that takes our breath away. In a narrative (story-telling) sonnet, it's the twist we never saw coming.
What does this mean for your idea-gathering? It means that whatever your topic, it should lend itself to a "punch line." Personally, 90% of the time, the couplet is what I think of first, and then I write toward it. What do you really want to say? What's your final message? What's the twist that makes this tale unique? Put that in your couplet. If you can't figure out (generally speaking here; we aren't writing yet) how you might do that… keep brainstorming on other ideas. Chances are good that you'll know it when you find it. Filling in the setup is gravy.
Oh, and a final note? Don't throw away your ideas list! Tuck it away for a rainy day. You might be surprised how old thoughts can take on new life with just the right angle.
Posts in the Sonnet Building series:
Step 2: "Structuring a Skeleton"
Step 3: "Filling out the Flesh"
* * *
Prosers: You aren't bound by rhyme, meter, or length. How does this apply to you? In my humble opinion, prose writers, too, should find their endings first.
Think of your novel as a sonnet. The last few chapters need to be your couplet. Why? Because that's what your reader leaves with. Have you ever read a book with an exceptional concept and an unexceptional ending? Chances are they forgot to write their ending first. I hate it when I read a book or watch a movie with "alternate endings." My way of thinking is: if this idea was properly thought out and developed, there would only be one possible ending to satisfy the consumer. The way to set up that perfect feeling of closure is to know going in how it's all going to pan out.
And on a mini-scale, chapters are like this too. Write toward your ending. It gives you drive, direction, and a satisfying pay-off. There are exceptions, of course, but in general I've found this a helpful way to plot. How do you handle endings?
Sonneteers: Your assignment this week, should you choose to accept it, is to figure out what you want to write a sonnet about. That's it!
Need help brainstorming? Or do you already have some ideas? Feel free to talk about them (and to each other) below. The comments are a place for you to brag, share, ponder, and ask questions. And don't worry about other folks stealing your ideas. Even if two people write a sonnet about the exact same thing, the end products will be two wildly different poems. Plus, this is a community effort, right? Many of us have never even written a poem before, so let's all be supportive!
Share this: