Have you ever noticed that book reports, synopses, reviews, and query letters are written in present tense, even if the book they're about is told in past tense? Have you ever stopped to really consider why (beyond the fact that it's how your grammar teacher told you to do it)? I got to thinking about this the other day, and the whole concept fascinated me.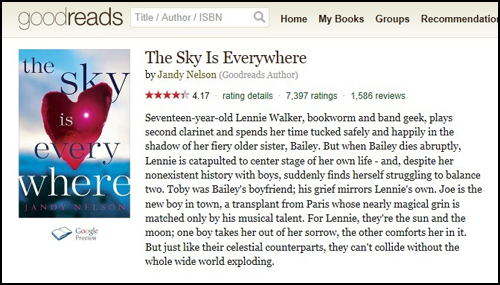 A screenshot of the plot summary for The Sky is Everywhere by Jandy Nelson on Goodreads,
which, by the way, I highly recommend to everybody.
If I shuck my familiarity with this convention long enough to view it logically with fresh eyes, the whole practice seems utterly counter-intuitive. There are other options that strike me as much more reasonable, namely:
1) Write the summary in the same tense as the book.
So The Sky is Everywhere would still be present tense, but Off Season by Jack Ketchum (which I also highly recommend, though not to everybody) would be summarized in past tense.
2) Write all summaries in past tense, sense the person summarizing them has already read them, and thus the events have already happened.
I mean, think about it. Even if you're currently reading a book, you usually talk about it in past tense. Your spouse walks through the room and you say, "Anita just got them all in big, big trouble," not, "Anita is getting them all in big, big trouble." That sounds… not wrong, just odd. Even future tense ("Anita is about to get them all into big, big trouble.") sounds more natural than that.
But, as I've already established, only one of these options is accepted — and the most awkward one at that. All summaries are present tense. Why?
To answer that question, I had to take my mind off the writer of the review and the writer of the book and train it on the reader of the review – and thus the potential future reader of the book.
Future is the key word. That reader has not yet read the book, so for them, the events in the summary have not happened. I'll let that sink in a minute.
The plot is frozen in time, ready to verb itself into action when you read the words. Until then, it's like it doesn't exist. It's waiting to happen. What an incredible concept.
If you haven't read a book yet, nothing in the book has happened yet, so the summary wouldn't make sense in past tense. And since summaries are almost always written for those who haven't already read something, they belong in present tense. Hell, they could be in future tense if it weren't so damn clunky.
This tells me several rather wonderful things:
Books, quite literally (pun intended), never die, because they're always happening.
Books are always waiting for someone new to read them, to re-happen.
Books are not endless. Every book I've ever read has ended. But they are never-ending, as someone new can always pick them up.
When you think of it that way, books are immortal.
I don't know about you, but that gives me a lot of joy to think about. Now I would like to pose a tiny little question.
Is that, perhaps, maybe, by any chance… the reason we all so desperately want to publish one?
Is it possible that it's why we like to read them? Re-read them? What do you think? Am I over-romanticizing it, or are books our best shot at immortality?
Share this: