This blog post is referencing the whole mess that my brother and I have been swimming through with Passages Malibu and Blue Cross Blue Shield Anthem insurance for my dad's alcohol rehab. I explain it all in this post. And again I will use the disclaimer that this is the truth as I've experienced it, accurate to the best of my knowledge.
First, I'd like to say that you all gave me such wonderful advice and support. The general consensus was that my brother and I needed to get an attorney. We tried. I was in contact with two local attorneys who were recommended to me by friends, and both were very nice and concerned. They also both said that they couldn't do much of anything without a copy of the full insurance policy.
We don't have that. We looked through all of the papers from my dad's house, and it's just not there. And since Blue Cross has been avoiding paying us for almost four years now, I certainly wasn't naïve enough to think they'd make it easy to get it. Boy, was that an understatement.
Long story short, we are working with two companies that no longer exist and one that never cared about us to begin with. Anthem, the division of Blue Cross Blue Shield that my dad had, doesn't even exist anymore, and therefore "doesn't have any funds." (Don't ask me how we got mail from a department that doesn't exist. It's clearly some sort of dark magic.) My dad worked for A.G. Edwards, which has since been bought by Wachovia, which has since been bought by Wells Fargo. And on top of that, we are fast approaching the 4-year anniversary of when my dad went into Passages: February 23, 2008, which apparently means important things to legal minds. We're out of time, options, and energy.
To try to explain the negative effect this ordeal has had on my life seems impossible. Grief is one thing. Stress is another. The aching weight of being mired in a situation you have absolutely no control over is something entirely different. And the fact that it is somehow emotionally tied to my dad and his death only makes it worse. I think, in many ways, it has held me back from the closure I need with all of it.
So I called my brother, had a talk with him to make sure he feels the same way, and made my decision. We're giving up.
(I'm still going to file complaints with the Better Business Bureau and a couple of insurance boards, etc., but I have no delusions that it will do good.)
To be honest, I've been feeling pretty shitty about my choice. How many of you told us not to give up? To take it to TV? To make a loud enough racket to be heard? To produce change? After all, this whole phenomenon of the big companies stringing us along until we're tired is designed to make us give up. Giving up means they win.
I wanted to fight, guys. I've wanted to make it better for four years. But I'm tired.
In the end, what hurts the most is Passages' treatment of my dad – his need for help that he didn't get. Blue Cross refusing to pay is upsetting, but it seems less personal. I'm pretty sure they jerk everyone around. And as useful as money is, the closure is what we really wanted. An apology. At least an acknowledgment. A definite reason to move on. I realize now that I'll probably never get that.
So I guess I'll have to make my own closure. At some point, I have to say "when."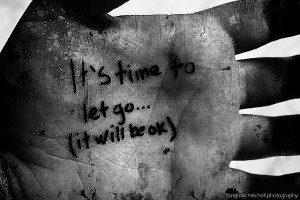 Tomorrow is Valentine's Day – a day all about love. Love. What does this legal/financial/paperwork nightmare have to do with love?
Do you read Judy Clement Wall's blogs? You should. Last week at A Human Thing, she talked about love and faith, and this is what stands out to me:
"I wonder if it matters, in the face of such global cruelty and disregard, that there are some of us trying to love through our fear, trying to live like we believe that we hold each other's hearts in our hands."
Man, did that hit home. On one hand, I find myself feeling a little self-centered in instantly applying the phrase "global cruelty and disregard" to my situation – as if my problems are the ones J is talking about. I mean, there are people so much worse off. Who am I to count myself among those taken advantage of?
But then I think, no, you know what? It is us. Not me, but the people like me and my brother and the struggles we've gone through. Because it's not just us; we are a symbol of others less vocal. How many people gave up faster than four years in? How many people couldn't even consider hiring a lawyer? How many people are going through it now, lacking the safety net of inheritance money and supportive friends and family?
It breaks my heart. Where's the love?
Clearly, the system is broken. Don't get me wrong; we made plenty of mistakes on our end, too. But should that mean that we're totally screwed? I think blaming it on the system can be a little bit of an evasion.
See, the problem with blaming it on "The System" is that the system doesn't retain any responsibility. It can't: it's not an entity. The system isn't accountable; it's a tool – a tool run by people. People, however, can and should retain responsibility. Regardless of what our bosses and companies tell us to do, each person is responsible for his or her own morality.
At every step of the twisted path that my brother and I have been down, there has been a person who could have – and I would say should have – cared more, starting with Chris Prentiss, ending with the woman at Blue Cross who continually transferred me to out of service phone numbers and "accidentally" disconnected my calls.
People are the only ones who can implement change, make a difference, show love. You don't have to love someone personally to act with love, and in the past four years I have seen quite a shortage of that. Thankfully, in other aspects of my life, I have also seen a surplus of it. Like you all, who stepped in to show your support after reading the original post.
So when I read that statement by J, above, it hits home for many reasons, on global, personal, and intimate levels. And as a person who has experienced the cruelty and disregard as well as the special people living like they believe they hold each other's hearts in their hands, I can tell you, J, it matters. When you cut away all of the bullshit, the "systems," the excuses, it is truly all that matters.
As I struggle to let go of the worst part of the last four years of my life, I am aware that there are some things I need to hold on to. The lessons learned, the power of forgiveness, the beautiful support I have in all of you who took the time to reach out to me when I spilled my guts in my blog (when I could never do it in person). Thank you all.
I want to hold on to my dad, his journey, his pain, my pain. Not because I deserve to hurt, but because pain is part of love. I know on Valentine's Day we're all tempted to pretend love is hearts and roses, but I think we all know that love would never be beautiful without the ugly to balance it. The fear I can let go of. But the love – pain and all – I'll keep forever.
And it's a love that can only teach me, can only make me more sensitive to the trials of those around me, can only help me become one of those who loves through my fear. I do believe that we hold each other's hearts in our hands. It's time we all look at our own and remember their power.
Share this: